19 Aug

Support for Gateway students

Gateway programmes are for Year 11 to 13 students who want to explore job options while studying towards NCEA. Over a 12-month Gateway programme they try out a job in a real work environment, learn and are assessed for specific work knowledge and skills, and study for trades-related credits.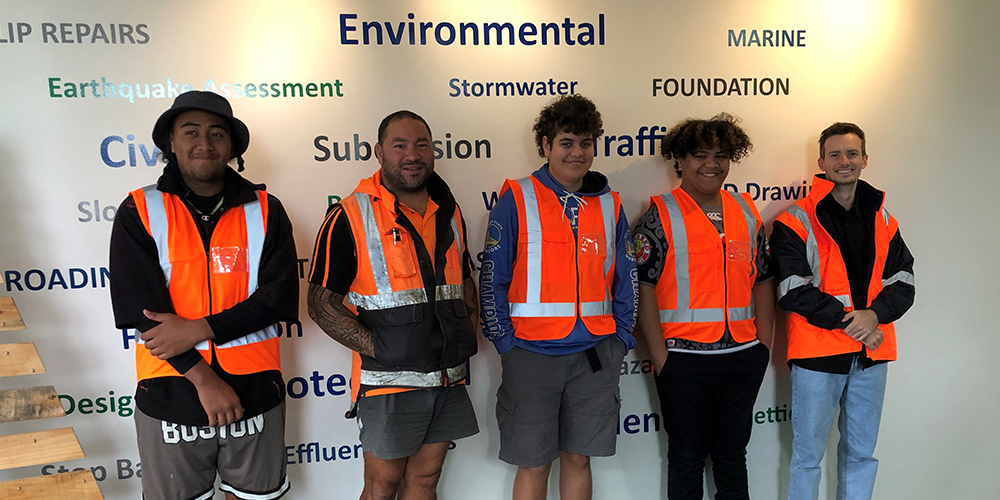 Haigh Workman participates enthusiastically in the programme. We feel this is a way in which we can usefully give back to our communities.
Our environmental engineer Josh Cuming, geotechnician Kona Teu and structural engineer Peter Land recently took three Gateway programme students from Kawakawa's Bay of Islands College under their wing, to help broaden their understanding of what engineering consultancy looks and feels like on a day-to-day basis.  All except Josh are pictured here together in our Kerikeri office reception area: from left to right, Watene Kereone (Year 11), Kona, Ryan Uluinayau (Year 12), Shontayne Davis-Watling (Year 12) and Peter.
They visited our flood mitigation project worksite near Otiria, and various structural engineering projects, including the extension of the McDonald's franchise in Kerikeri where they reviewed the plans against what they could see happening on the ground.
Our team, including our general manager delivery David Clamp, were able to give the students an overview of potential career paths within the broader engineering profession, as well as insights into the international opportunities that a career in engineering can bring.
A small example of the value that the programme can offer was when one of the students was able to experience first-hand how his general interest in computer science could be used within a specific engineering context. It opened his eyes to a potential career path that he hadn't considered until that moment.
We believe that the programme is a fantastic initiative and we are proud to be involved. We're always sad to see 'our' students leave once their time with us is up, and we wish them everything of the best for the future.